Publisher – Latest Odisha News | Odisha Breaking News
Union Minister of State (Independent Charge) Science & Technology; Minister of State (Independent Charge) Earth Sciences; MoS PMO, Personnel, Public Grievances, Pensions, Atomic Energy and Space, Dr Jitendra Singh, who is also a known Diabetologist and a medical professional, said here today that traditional millets diet is beneficial in diabetes, obesity and host of other disorders. Millets are rich in essential vitamins, minerals, protein and fibre, and the lesser known fact is that all the dishes made from rice and wheat can also be made from millets.
Delivering the keynote address at an exclusive event titled "CSIR innovations on Millets" commemorating the International Year of Millets here today, Dr Jitendra Singh said, after Prime Minister Narendra Modi popularised Yoga globally, it's now time to do so for Millets. He said, 10 of the 12 known types of millets are grown in India, which consist of complex carbohydrates, slow to digest and hence low glycemic index beneficial for blood sugar levels.


The Minister recalled that the first International Day of Yoga was celebrated on 21st June 2015, after the IDY resolution of the United Nations General Assembly (UNGA) in December 2014 came at the initiative of Prime Minister Shri Narendra Modi and was passed by unanimous consent. Now, The International Day of Yoga (IDY) is celebrated on 21st June every year worldwide. Similarly, spearheaded by Prime Minister Narendra Modi, the United Nations declared 2023 as the "International Year of Millets" at the initiative of the Indian Government last year and was backed by 72 other countries, the Minister informed.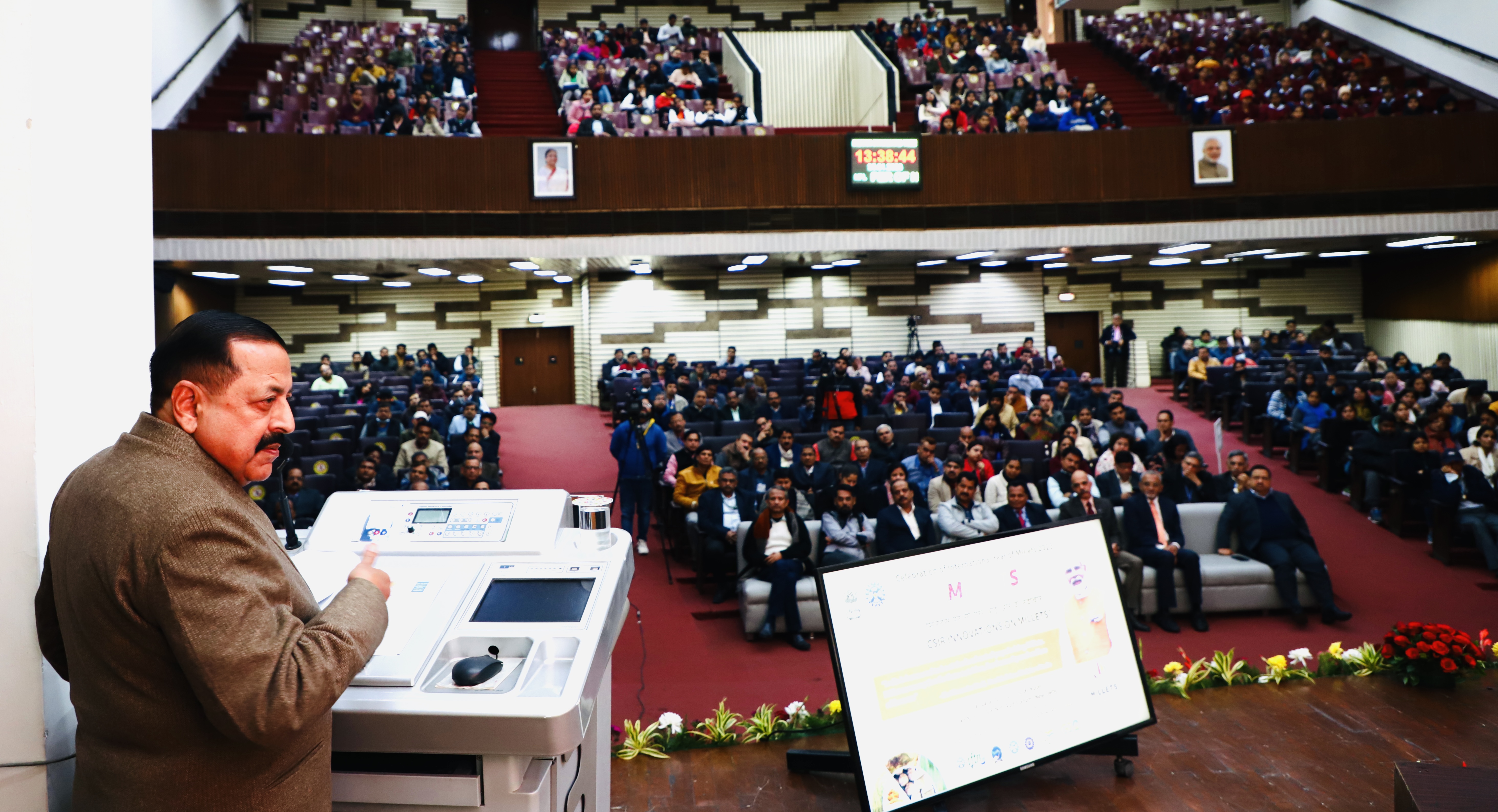 Dr Jitendra Singh also inaugurated the Exhibition and released the Desktop Calendar 2023 on Millets at CSIR-NPL as part of the Celebrations of "International Year of Millets-2023" by CSIR Labs. The Minister informed that the Exhibition had a display of products and technologies developed in CSIR-CFTRI and also other CSIR labs and will showcase the capabilities of CSIR-CFTRI in Millet's R&D and reach out to various stakeholders on the institute's Millet-based Technologies at national Level.
Dr Jitendra Singh detailed how the Government's initiatives are going to revive consumption of millets, not just in India, but globally and increase the farmers' income. He also appreciated the efforts of CSIR, especially CSIR-CFTRI, Mysuru in developing technologies and machineries for processing, value added products from millets and also in the area of skill development.
Dr Jitendra Singh, who is himself a known Diabetologist and medical professional told the august gathering that Millet is a whole grain that is high in nutritional value and the cereal crop is nutritionally superior to wheat and rice due to its higher protein levels and a more balanced amino acid profile.


The Minister informed that Millets are drought-resistant, with lower water requirements, and can be cultivated on poor soils and in hilly terrain and therefore could be produced and promoted in almost all Geographical Terrains & Regions of the World. They are also rich in carbohydrates, protein and minerals like calcium, potassium, magnesium, iron, manganese, and zinc, he added.
Dr Sridevi Annapurna Singh, Director, CSIR-CFTRI, Mysore welcomed the Union Minister, gathering and presented the key contributions of CSIR in the area of millet processing. She also emphasised the contributions of CFTRI, Mysuru, NIIST, Thiruvananthapurm and IHBT, Palampur, the constituent laboratories of CSIR in this area.
Dr Sridevi informed that CSIR-CFTRI is organising "One Week One Laboratory" programme in the second week of June 2023 to highlight CFTRI's contribution with special emphasis on millets, among other achievements.  This programme is the brainchild of Union Minister of Science and Technology, Dr Jitendra Singh, who is also the Vice-President of CSIR.
Dr. Venugopal Achanta, Director, CSIR-NPL, New Delhi was the Guest of Honour and he gave the welcome address. Representatives of food processing industries who have taken CSIR-CFTRI technologies, shared their experiences and thanked the organisation for the support. More than 600 participants from various Secretaries & Officials from Central Government Ministries, regulatory bodies, Directors of CSIR institutes, Scientists, students, industrial partners and students attended the programme.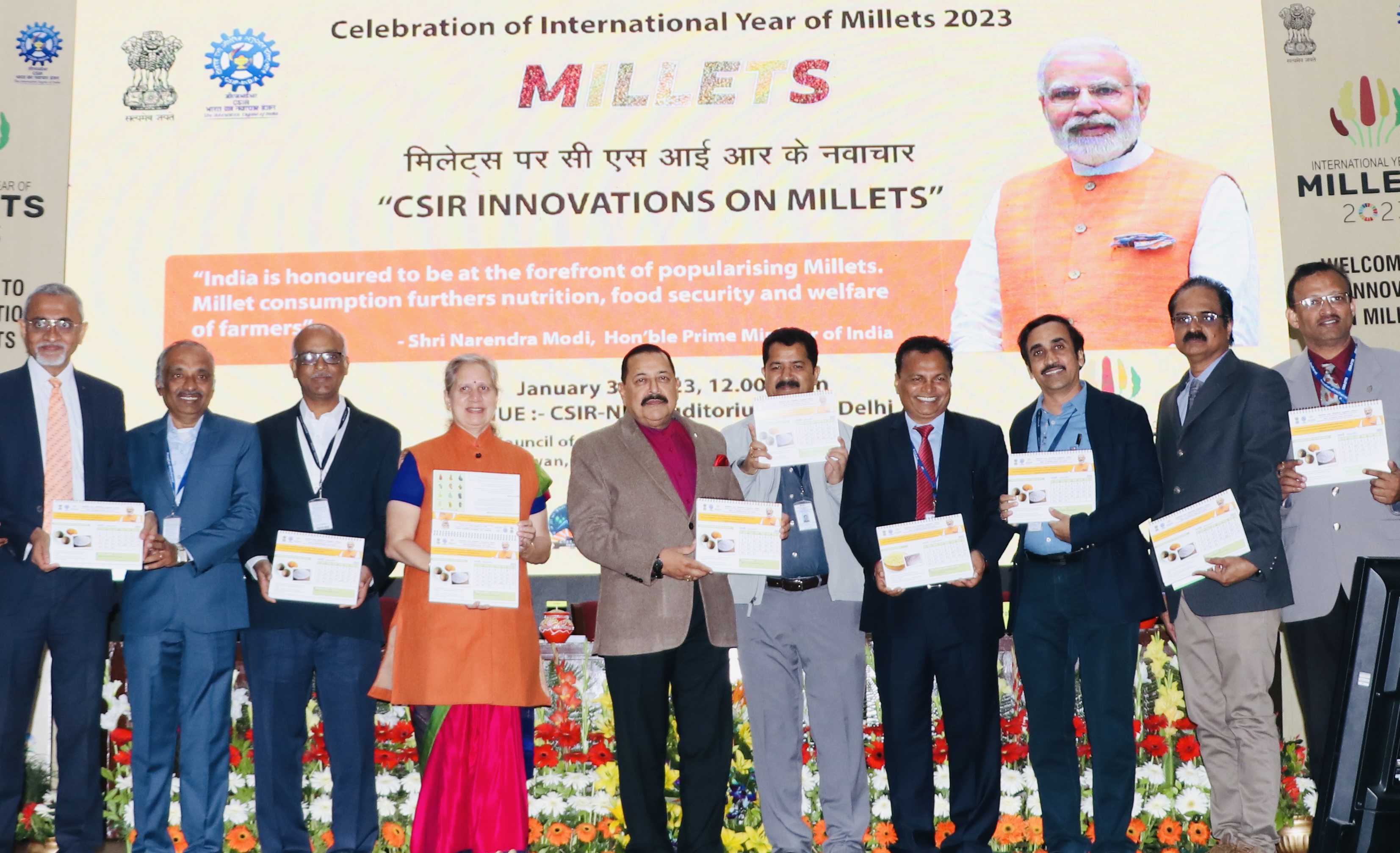 Interaction with experts, scientists, industrial partners were the other key activities in the event. This varied group of small-seeded grasses called Millets include jowar (sorghum), ragi (finger millet), kodo (kodo millet), kutki (little-millet), kakun (foxtail –  millet), sanwa (barnyard- millet), cheena (proso millet), kuttu (buckwheat) and chaulai (amaranth). It may be recalled that The Food and Agriculture Organization (FAO) of the United Nations, organised an opening ceremony for the International Year of Millets – 2023 (IYM2023) in Rome, Italy. An Indian delegation led by Sushri Shobha Karandlaje, Minister of State, Agriculture & Farmers Welfare and other senior officials were present at the opening ceremony. During the event, India's ceremonial message by the Prime Minister Shri Narendra Modi was conveyed by Sushri Shobha Karandlaje.
It may also be noted that India produces over 170 lakh tonnes of millet, thus accounting for 80 per cent of Asia's and 20 percent of global production.
Prev Post
Bengaluru all set to host the first G20 Energy Transition Working Group Meeting under India's Presidency
Next Post
Rajeev Chandrasekhar inaugurates the two-day symposium on the Quantum Computing Ecosystem organised by C-DAC
Second successful Heart Transplant at Army Institute of Cardio Thoracic Sciences…
Final growth rate of Index of Eight Core Industries for September 2022 is revised to…
ECONOMY HAS STARTED BENEFITING FROM THE EFFICIENCY GAINS RESULTING FROM GREATER…
Results of Combined Geo-Scientist Examination, 2022 conducted by  the Union Public…
Your email address will not be published.

Second successful Heart Transplant at Army Institute of…
Final growth rate of Index of Eight Core Industries for…
ECONOMY HAS STARTED BENEFITING FROM THE EFFICIENCY…
Results of Combined Geo-Scientist Examination, 2022…
INDIA'S EXTERNAL SECTOR DISPLAYS A POSITION OF STRENGTH…
After the successful launch of its flagship online portal Orissa Diary in 2004 (www.orissadiary.com). Later We formed the Odisha Diary Foundation Currently several new portals are in operation they are like India Education Diary (www.indiaeducationdiary.in) , The Energia ( www.theenergia.com ), www.odishan.com and E-India Education (www.eindiaeducation.com) have received increasing levels of visits.
Editors' Picks
Second successful Heart Transplant at Army Institute of…
Final growth rate of Index of Eight Core Industries for…
ECONOMY HAS STARTED BENEFITING FROM THE EFFICIENCY GAINS…
Popular Posts
Second successful Heart Transplant at Army Institute of…
Final growth rate of Index of Eight Core Industries for…
ECONOMY HAS STARTED BENEFITING FROM THE EFFICIENCY GAINS…